So, there are three things you should know about me:
One. I have always loved quests. It doesn't matter if it involves treasure hunts or a race to a predetermined finish line, if it involves jumping through hoops and solving riddles in the process, I am all for it.
When I was a young and idealistic clinical instructor, I used to organise an Amazing Race Velez College Edition for my nursing students at the end of each placement as a fun way of testing their knowledge and skill as well as, you know, using my powers to get them to do silly stuff like put their faces on a bowl of flour to find the clue hidden underneath. It was awesome.
Two. I love the 80s. I mean, I was only alive for three years of it but my dad and uncles were all 80s aficionados. The three of them had a combined and impressive collection of CDs of artists from the 80s and DVDs of films from that decade. My favourite uncle especially was really into 80s new wave so from the age of 8 and beyond, I had Billy Joel singing Uptown Girl and Kate Bush longing for Heathcliff in 'Wuthering Heights' as the soundtrack of my childhood.
Three. I am a big geek. There is no way anyone who knows me will fail to realise this. I did well in school, I was into books and music and film and I cannot play a sport to save my life (unless Scrabble counts as a sport).
Growing up this gave me a lot of insecurities and for a long time I probably pretended to be a lot cooler than I was, but I've reached the age where all you can really do is just be yourself and realise that who you are is awesome simply because ITS YOU.
This is what this book celebrates I guess: quests, the 80s and geekdom. Honestly, this book is like manna from heaven for every geek and gamer out there (of which there are many I'm sure). The number of pop culture references that Wade and company used to solve the quest, get to Halliday's egg and save the world in the process is so ubiquitous it nearly made my head spin.
I have to admit I did not get most of them, especially the ones relating to video games. But there's plenty of things that I did get: John Hughes films, Star Wars, Lord of the Rings, to name a few. I also loved the Marty McFly reference because the Back To The Future trilogy are among my favourite films of all time.
I know that just like any book that's reached a certain level of popularity, this one is already getting a lot of backlash and criticism from people who think the references are self-serving, self-referential and complete and utter nonsense. To that I say:
I really don't get why people feel the need to take a book so personally. I've given negative reviews about a book before but I'd like to think I've always had something positive to say about it rather than just tearing it to shreds. As someone who aspires to be a writer someday, I appreciate how hard it is to string together a coherent paragraph that will somehow convey the stories that are in your mind, let alone have the commitment to actually get it published.
I think the premise and the plot of this book is stronger than it gets credit for. I loved the more sinister undertones lurking behind the exhilarating quest and the subtle message of the dangers of OASIS, the super-immersive virtual reality program that has enthralled the masses in this dystopian future. It also amazes me that for a book that celebrates all things techie and geeky, it still somehow manages to convey a very human story of acceptance,friendship and love.
Okay so its not without its faults, but overall I find the writing to be so superb that it had me in its hooks even though I have no idea how to tell the difference between an Atari and a Nintendo PS, and though I've never played a game of PacMan in my life. The narrative moves forward in an exciting pace and ultimately ends in a triumph that leaves me wanting to do this:
I can't wait to watch the Steven Spielberg-directed film adaptation and watch as Steven Spielberg pays homage to 80s pop culture and, well, Steven Spielberg.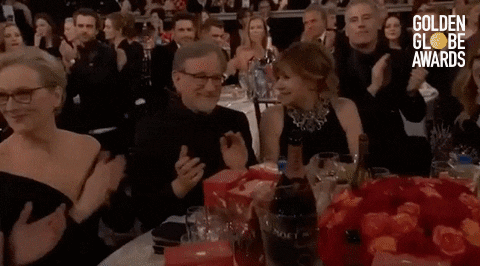 Okay, so that is probably a little too self-congratulatory for my taste but you can't blame the guy for having had such a heavy influence on most of the films released during that period. He IS one of the greatest filmmakers of all time. Let's not hold that against him and this book.
If you haven't got a copy already, go buy this book. Solid 4 stars!